Grille Types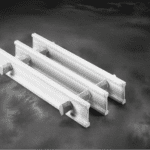 N I Bar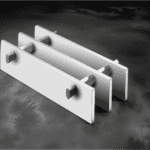 Flat Bar
Paldek
Serrated Flat Bar
Handrail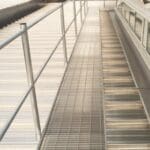 Paldek Handrail
Genesis Guardrail
Fixing Details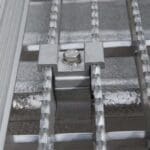 Quickfix* Clamp
Standing Seam Clip
Trapezoidal Clip
N-I BAR aluminium alloy decking panels incorporating the swage locking principle for a handsome, lightweight and structurally efficient open grille panel.
Flat Bar utilises traditional rectangular load-bearing bars secured into position by the swage locking process. The rectangular load bars are available in 3.2mm and 4.8 widths.
The Serrated panels on Paldek provide a positive anti-slip surface across the entire surface to suit the most demanding of situations.
Our Serrated Flat Bar achieved the highest rating when tested for slip resistance. To achieve this the flooring surface must maintain a non-slip condition at an angle in excess of 35°.
Quickfix's dual action fixing clamp provides a fast and efficient installation method that saves times and money spent on site. (Only works with the Quickfix system)