In Our Element
Manufactured from 6063 T4 / T6 Aluminium to the BS EN 755 standard series
Truly Modular
Manufactured off-site to reduce time, disruption and impact on-site to your bespoke dimensions
Non-Penetrative
Utilises a clamped fixing to the roof profile without penetration of the sheeting
Extremely Durable
Has a design life of 60+ years and comes with our 25 Year Warranty*
N-I BAR

achieves a high strength-to-weight ratio making it an

excellent solution

for environments where slip resistance is essential.
Non-Combustible
A1 Fire Rated and fully compliant with BS EN 13501-1
Superior Spanning Cababilites
Significantly reduces the number of supports needed
Environmentally Friendly
100% recyclability manufactured from 77% recycled aluminium
Unique Swage-Locked Design
Creating the maximum level of structural integrity
N-I Bar Grilles
N-I Bar's ribbed surface makes it an ideal choice for environments in which non-slip qualities are important. Fitted in the same way as Neatdek and Flat Bar, N-I Bar boasts a high strength-to-weight ratio and a particularly attractive appearance.
The 6.5mm bar has a 21% contact surface area which is larger than that offered by traditional industrial flooring. The unique I-shaped profile makes it ideal for projects that require a high-end aesthetic without compromising the excellent spanning capabilities.

Fire Rating: Zero fire rated
Surface contact area: 21%
Materials used: load-bearing bars in Aluminium Alloy 6082 T6 & swage bars in Aluminium Alloy 6082 T4
Recycled content: 85-100% (finished product is also 100% recyclable)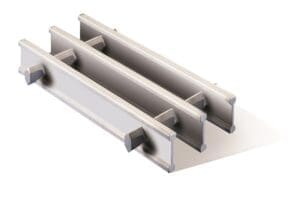 The N-I Bar profile allows the full pyrotechnic and lighting effects to penetrate through its open grille. It is also the optimum system for heat resistance, so it was ideal for this design and stage production."
Keith Steward | Brilliant Stages
Ask Us For a Quote
Our friendly, expert team are on hand to speak with you and advise on your requirements.
---
NI Bar has more surface area so the slip resistance is higher.
Why does Neaco use Aluminium?
Aluminium is a great building material for many reasons: it provides maintenance-free durability and is non-toxic, corrosive-free, non-combustible and 100% recyclable. It's also lightweight yet strong, which makes Techdek an ideal specification for applications such as roof access walkways. Aluminium's aesthetically pleasing properties can be further enhanced with coating or anodisation.
What is a Modular System?
Modular systems provide a vast range of modular components which are precision manufactured off-site to an exacting standard, delivered to the site and then assembled on-site. This means factory-controlled quality, faster installation, less mess, less waste and less energy consumption than products fabricated on-site.
Does Neaco Install as well as Supply?
Yes, we provide a full installation service in addition to technical support and consultation throughout the specification process. Our team of experts is always on hand to assist at every stage.
Do we offer a bespoke service?
Yes, absolutely. Over the years we have worked with numerous architects and designers to incorporate bespoke features outside of our standard specifications, including grilles installed at unusual angles and specially developed solar shading louvres in a powder-coated finish to match the colour scheme of the building. To accommodate existing building features we can manufacture grille panels with bespoke cut-outs to allow obstacles to pass through. We pride ourselves on the flexibility and adaptability of our technical support services, so please feel free to discuss your particular requirements with one of our team.