In Our Element
Manufactured from Aluminium to the BS EN 755 Standard Series
Non-Penetrative
Using our saddle clamp fixing means no drilling is needed
Extremely Durable
Has a design life of 60+ years and comes with our 25 Year Warranty*
Non-Combustable
A1 Fire Rated and fully compliant with BS EN 13501-1:2018
Flat Bar

 is an open construction grille that provides a versatile grating design to deliver

excellent performance

in a multitude of applications.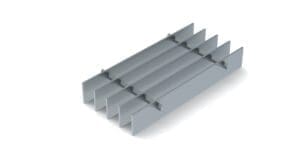 Unique Swage-Locked Design
Creating the maximum level of structural integrity
Precision Engineered
Manufactured to bespoke sizes in our 52,500sqft factory in North Yorkshire
High Aesthetics
A high architectural aesthetic and is virtually maintenance-free
Versatile
Designed to suit a variety of requirements and environments
Fire Rating: Zero fire rated
Surface contact area: 10.6% (3mm Flat Bar) or 16% (5mm Flat Bar)
Materials used: load-bearing bars in Aluminium Alloy 6082 T6 & swage bars in Aluminium Alloy 6082 T4
Recycled content: 85-100% (finished product is also 100% recyclable)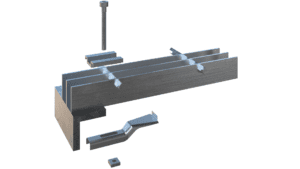 Flooring Grilles
Flat Bar is a modular system that is manufactured to the exact dimensions required and is available in two standard thicknesses which are popular specifications for multiple application types. In addition to a decking solution, Flat Bar can be used as cladding, solar shading and balustrade infill.

Flat Bar also has the option of being Serrated. The serrated panels provide a positive anti-slip surface across the entire surface to suit the most demanding of situations.
Neaco's technical support was excellent. They were very flexible in providing a design solution which accommodated the structural demands of the building and we would definitely work with Neaco again in future projects of this type."
Mark Benson | Dane Architectural
What is Flatbar typically used for?
Flatbar is a free draining grille and highly durable. The material is non-corrosive so it is usually installed in an environment with vigorous conditions.
Why do Neaco manufacture in aluminium?
Aluminium is a great building material for many reasons: it provides maintenance-free durability and is non-toxic, corrosive-free, non-combustible and 100% recyclable. It's also lightweight yet strong, which makes Techdek an ideal specification for applications such as roof access walkways. Aluminium's aesthetically pleasing properties can be further enhanced with coating or anodisation.
What is a Modular System?
Modular systems provide a vast range of modular components which are precision manufactured off-site to an exacting standard, delivered to the site and then assembled on-site. This means factory-controlled quality, faster installation, less mess, less waste and less energy consumption than products fabricated on-site.
Does Neaco Install as well as Supply?
Yes, we provide a full installation service in addition to technical support and consultation throughout the specification process. Our team of experts is always on hand to assist at every stage.
What are the acoustic properties of Aluminium Decking?
This answer has many factors so an accurate answer is difficult. It depends on the weather, what is hitting the decking, the force, the weight etc. The best answer we can give is that you request a sample for your own peace of mind.
Does the aluminium decking get hot?
Aluminium dissipates heat very well as it has a thermal conductivity value of around 235 Watts per Kelvin per meter so it will take longer to warm up after receiving heat such as direct sunlight. As a result, the surface and core temperatures cool much faster than with other metals.
Do we offer a bespoke service?
Yes, absolutely. Over the years we have worked with numerous architects and designers to incorporate bespoke features outside of our standard specifications, including grilles installed at unusual angles and specially developed solar shading louvres in a powder-coated finish to match the colour scheme of the building. To accommodate existing building features we can manufacture grille panels with bespoke cut-outs to allow obstacles to pass through. We pride ourselves on the flexibility and adaptability of our technical support services, so please feel free to discuss your particular requirements with one of our team.
Ask Us For a Quote
Our friendly, expert team are on hand to speak with you and advise on your requirements.
---