Material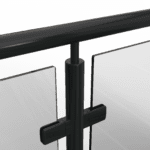 Aluminium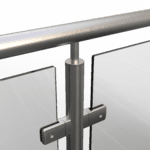 Stainless Steel
Infill Types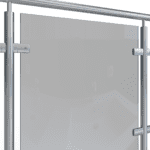 Toughened Glass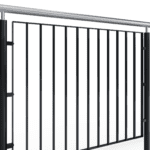 Vertical Infill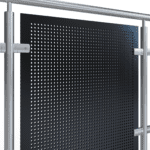 Perforated Panels
Stanchions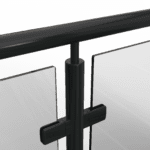 Centric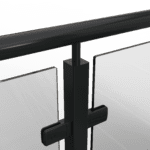 Quad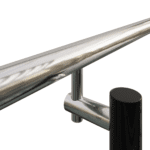 Offset
Toprails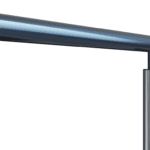 Tubular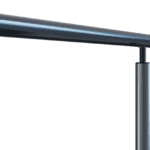 Ovular
Fixings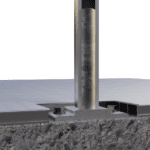 Base Fixed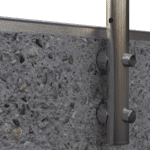 Side Fixed
Decking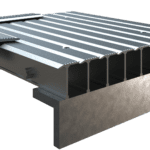 Modular Decking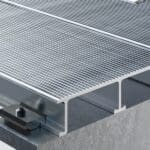 Plank Systems
Our most popular balcony specification is glass panels with handrails and balustrade in aluminium, powder-coated in a choice of colours for a warm and comfortable touch. The powder coating provides corrosion-free durability.
An alternative balcony specification is handrails and balustrade satin polished stainless steel. This would then make your balcony A1 Fire Rated, being the highest end of building standards and aesthetics.
As one of our most popular infill specifications, toughened glass provides a versatile and adaptable option. In accordance with BS EN12600, class 1 toughened glass panel infills can be clear, tinted, etched and/or curved.
Providing a classic styling, our railed infills are manufactured in 22mm vertical aluminium alloy flat bars. These can be powder coated in a range of colours and finishes but our most popular finish is Jet Black.
Although we do our standard ranges, we also do bespoke requirements to meet any project needs. These could include rail infills and tapered stanchions for commercial use, or bespoke infills such as trespa infills to create greater privacy.
Centric is our original stanchion, offering smooth, classic styling with an optional stem bracket. Centric is a highly flexible option with the ability to adapt to most angles or bends.
If you want sharp, clean looks, our Quad stanchion has a square profile which makes it the excellent choice. The contemporary style has made it a popular specification for high-end projects.
Widely specified at projects throughout the UK, our original modular balcony design features stanchions offset from the glass panels. We can do both offset inside and outside the glass, creating a distinctive variation on our original modular balcony design.
The tubular top rail is our most popular specification across all types of design schemes because it is economical and meets latest building requirements.
The ovular top rail provides an alternative option with a profile which is wider than the tubular rail. It provides excellent strength and comfort.
Neaco's base fixing detail utilises our custom extruded profile base plate, providing a solid platform for the stanchion to locate onto. This stanchion fixing method is ideal when fixing into solid structures such as structural steelwork.
The side fixed detail allows the stanchions to be fixed on the side of any structure, typically with a 40mm offset. The side fixed detail can be achieved on structural steelwork, concrete and masonry, similar to our Base fixing.
Modular decking is over 12x faster to install compared to plank decking. It requires significantly fewer fixings and the cutting, coating and edging are carried out off-site. Our range of Modular Aluminium Decking systems are ideal for balcony flooring, fully compliant with all relevant building regulations, they offer a wide range of advantages in comparison to other decking materials, click here to decide which decking you would like on your custom modular balcony.
Our aluminium planking system is designed to replicate the aesthetics of traditional timber and composite decking but complying with the latest government's Building Regulations. Spanning to superior capabilities and having a high slip resistance, these planks are ideal for refurbishments that need to remove the timber without losing the traditional aesthetics.