In Our Element
Manufactured from 6082 T6 Aluminium to the BS EN 755 standard series
Non-Combustible
A1 – A2 Fire Rated and fully compliant with BS EN 13501-1
Extremely Durable
Has a design life of 60+ years and comes with our 25 Year Warranty*
Range of Colours
Powder Coated Aluminium to your desired durable RAL colour
Superior Spanning Capabilities
Significantly reduces the number of structural supports needed
Precision Engineered
Manufactured to bespoke sizes in our 52,500sqft factory in North Yorkshire
Environmentally Friendly
100% recyclability manufactured from 77% recycled aluminium
High Slip Resistance
Categorised as 'low risk of slip' in the PTV test data in the direction of travel
Our Plank Decking Solution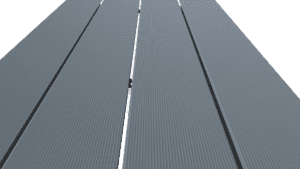 Manufactured in the UK from 100% aluminium, these robust floor planks are A1 Fire-Rated when mill-finished and A2 Fire Rated when coated with our durable colour coatings. They are laid with narrow gaps for a free-draining solution and are supplied as standard lengths or can be cut to any required length. They have lightweight profiles that are ideal for new build and refurbishment projects, yet offer excellent spanning capabilities, which will reduce the number of steel supports that are required. This product can also be utilised with a soffit to meet the latest balcony and terrace legislation (BS 8579:2020).
Cut and Coat Service
For all our plank systems we offer a cut and coat service where the planks are cut prior to coating so the finish is not compromised.

Fire Rating: A1-A2 Fire Rated
Surface contact area: 94.7%
Materials used: Aluminium Alloy 6082 T6
Recycled content: 77%
Free air rate: 4%
Their Neatdek decking is now specified group-wide due to its non-combustible quality which is now a legal requirement for balconies on residential developments."
McCarthy & Stone
Standard Colour Range
Our planks are manufactured in mill finish or can be powder-coated in a range of durable standard RAL colours. Neaco has its own in-house powder coating facilities which also allows us to provide any durable coated RAL colour of your choosing. The decking is put through our polyester powder-coating plant in our factory due to polyester being weather and UV-resistant, providing high colour stability.
Ask Us For a Quote
Our friendly, expert team are on hand to speak with you and advise on your requirements.
---
Why choose Aluminium Planks?
If you are looking for a solution to replace your timber decking due to laws around non-combustibility, these are your ideal match. Alternatively, please view our modular decking as another solution.
Is Neatwalk free-draining or directionally drained?
Neatwalk is laid with small gaps between the planks, making it a free-draining system.