Non-Penetrative
Utilises a clamped fixing to the roof profile without penetration of the sheeting
Extremely Durable
Has a design life of 60+ years and comes with our 25 Year Warranty*
Non-Combustable
A1 – A2 Fire Rated and fully compliant with BS EN 13501-1
Serration is utilised on

Flat Bar

and

Paldek

to create the ultimate slip resistance for all Roof Walkways.
Superior Spanning Cababilites
Up to 2000mm clear span capability, significantly reducing the number of structural supports needed
Environmentally Friendly
100% recyclability manufactured from 77% recycled aluminium
High Slip Resistance
Categorised as 'low risk of slip' in the PTV test data in the direction of travel
Serrated Flooring
The serrated finish maximises slip resistance, making it a popular solution for Roof Walkways. It features our patented swage-locked construction which provides high structural efficiency. The system is lightweight (1/3 of the weight of steel) yet high in load-bearing capacity.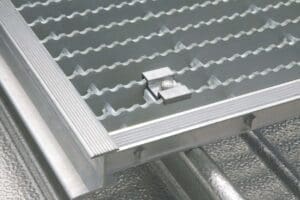 Surface contact area: 21%
Materials used: load-bearing bars in Aluminium Alloy 6082 T6 & swage bars in Aluminium Alloy 6082 T4
Recycled content: 85-100% (finished product is also 100% recyclable)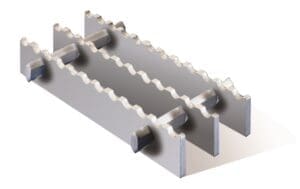 Neaco's products were ideal for the demanding technical requirements of this project which included a curved roof structure - the walkway is a versatile system which has the ability to adapt to its curvature."
Sam Wakeling | Eurosafe Solutions
Why would I add a serration to my walkway?
If you are working in an environment with harsh chemicals and vigorous conditions, it is the ultimate slip resistant walkways you can choose at Neaco.
Why do Neaco manufacture in aluminium?
Aluminium is a great building material for many reasons: it provides maintenance-free durability and is non-toxic, corrosive-free, non-combustible and 100% recyclable. It's also lightweight yet strong, which makes Techdek an ideal specification for applications such as roof access walkways. Aluminium's aesthetically pleasing properties can be further enhanced with coating or anodisation.
What is a Modular System?
Modular systems provide a vast range of modular components which are precision manufactured off-site to an exacting standard, delivered to the site and then assembled on-site. This means factory-controlled quality, faster installation, less mess, less waste and less energy consumption than products fabricated on-site.
Does Neaco Install as well as Supply?
Yes, we provide a full installation service in addition to technical support and consultation throughout the specification process. Our team of experts is always on hand to assist at every stage.
What are the acoustic properties of Aluminium Decking?
This answer has many factors so an accurate answer is difficult. It depends on the weather, what is hitting the decking, the force, the weight etc. The best answer we can give is that you request a sample for your own peace of mind.
Do we offer a bespoke service?
Yes, absolutely. Over the years we have worked with numerous architects and designers to incorporate bespoke features outside of our standard specifications, including grilles installed at unusual angles and specially developed solar shading louvres in a powder-coated finish to match the colour scheme of the building. To accommodate existing building features we can manufacture grille panels with bespoke cut-outs to allow obstacles to pass through. We pride ourselves on the flexibility and adaptability of our technical support services, so please feel free to discuss your particular requirements with one of our team.
Ask Us For a Quote
Our friendly, expert team are on hand to speak with you and advise on your requirements.
---