In Our Element
Manufactured from 6082 T4/T6 Aluminium to the BS EN 755 standard series
Non-Combustible
A1 – A2 Fire Rated and fully compliant with BS EN 13501-1
Extremely Durable
Has a design life of 60+ years and comes with our 25 Year Warranty*
Superior Spanning Capabilities
Significantly reduces the number of structural supports needed
Environmentally Friendly
100% recyclability manufactured from 77% recycled aluminium
High Slip Resistance
Categorised as 'low risk of slip' in the PTV test data in the direction of travel
Our Modular Decking Solution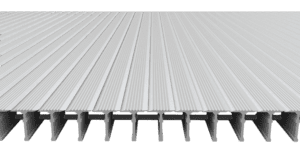 Our Neatdek 188 still incorporates the swage-locked construction but adding a parallelogram variation creates a concealed-gap surface with discreet free-flow drainage. Its unique profile completely restricts views from above and below for maximum privacy. It also restricts the passing of any solid objects to the surfaces below. Being A1 Fire Rated and fully compliant with BS EN 13501-1, our decking is available with a specially engineered anti-slip surface and can be coated in a range of standard RAL colours or even a bespoke durable colour coating of your choice to add to the aesthetic.
188's Overlapping Surface
Due to the design of our Neatdek 188, the overlapping surface creates total privacy while keeping the free-flowing drainage, making this the most unique modular decking.
Fixing Detail
Our decking has a quick and easy system to install using our Easy Fixing Clips, with no drilling involved, this makes it a truly modular product to install.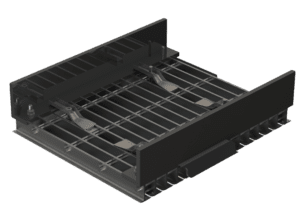 Standard Colour Range
Our decking is manufactured in mill finish or can be powder-coated in a range of durable standard RAL colours. Neaco has its own in-house powder coating facilities which also allows us to provide any durable coated RAL colour of your choosing. The decking is put through our polyester powder-coating plant in our factory due to polyester being weather and UV-resistant, providing high colour stability.
Ask Us For a Quote
Our friendly, expert team are on hand to speak with you and advise on your requirements.
---
Neaco's capabilities provide a one-stop shop for design consultation, measuring, manufacturing and fitting so working with them removes a lot of the agony that can occur on some projects."
Keith Bradley | Forrest Maughan
Aluminium is a great building material for many reasons: it provides maintenance-free durability and is non-toxic, corrosive-free, non-combustible and 100% recyclable. It's also lightweight yet strong, which makes Techdek an ideal specification for applications such as roof access walkways. Aluminium's aesthetically pleasing properties can be further enhanced with coating or anodisation.
What is a Modular System?
Modular systems provide a huge range of modular components which are precision manufactured off-site to an exacting standard, delivered to site, and then assembled on-site. This means factory-controlled quality, faster installation, less mess, less waste, and less energy consumption than product which are fabricated on-site.
Does Neaco Install as well as Supply?
Yes, we provide a full installation service in addition to technical support and consultation throughout the specification process. Our team of experts is always on hand to assist at every stage.
What are the acoustic properties of Aluminium Decking?
This answer has many factors so an accurate answer is difficult. It depends on the weather, what is hitting the decking, the force, the weight etc. The best answer we can give is that you request a sample for your own peace of mind.
Does the aluminium decking get hot?
Aluminium dissipates heat very well as it has a thermal conductivity value of around 235 Watts per Kelvin per meter so it will take longer to warm up after receiving heat such as direct sunlight. As a result, the surface and core temperatures cool much faster than with other metals.
What is the maximum span?
We offer Neatdek 188 in spans up to 1650mm