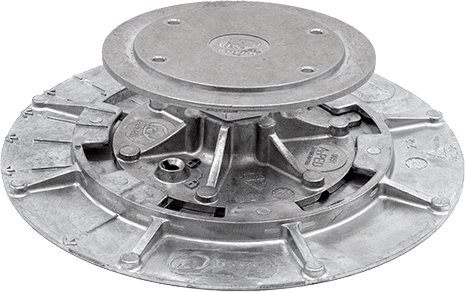 Many existing residential buildings feature balcony elements which do not meet the Euroclass A1 (non-combustible) or A2-s1, d0 (limited-combustible) rating necessary to meet compliance due to the Building Safety Act 2022. Manufactured from recycled aluminium and zinc-coated steel, this pedestal is Euroclass A1 fire rated to comply with Building Regulations on buildings over 18m in height. These pedestals also have a large spreader base that won't compromise insulation or waterproof membrane being the ideal pedestal system Neaco's Neatdek aluminium decking that can be laid directly on top of the pedestal and affixed securely in place.

With an in-built slope corrector which allows up to 5% of millimetre-precise correction, the Adjustable Pedestal aids the installation of raised flooring, avoiding the cost and delay of constructing a sub-frame on uneven or unstable groundworks. It easily compensates for slight irregularities and any gradients on the laying surface, creating a perfectly stable and flat application which allows the laying surface and any installed services to be accessed and maintained without causing damage.
"The whole pedestal range is non-combustible and is classified Euroclass A1 to BS EN 13501-1:2018. This feature is vital to complement other products in our range, including our decking and balustrade, which are A1 or A2 rated to ensure compliance with regulations for balconies and rooftop terraces on high-rise buildings. The pedestals also match the outstanding corrosion resistance and durability of our established products. They will work seamlessly with our aluminium modular decking, which is renowned for its fast installation, ensuring that we can further reduce the time spent on site for the benefit of project managers and contractors."

– Alan Green, Managing Director at Neaco
Compression Test Load testing has been performed on the pedestals to 6 tons and we certify to over 3 tons per pedestal. They have a breaking load of over 2000kg and have a height adjustment of 24mm up to 395mm. The pedestals require a Bubble Level to determine the amount of slope correction required as the main feature is their slope correction. We can provide a locking key to secure the position for use in high-traffic environments.