The Project
Though suitable for a wide variety of roles, including access walkways and solar shading, in this particular case Flatbar was selected to provide vertical screening as part of the Leadbitter Group's reconfiguration of the existing Union Building, reconstructing 600 square metres of internal space whilst retaining the existing façade and other features. Flatbar was specified by OMC Plan Stairways, who knew it was a product of proven quality, having chosen the system for past projects.

In addition, a new two-storey building has provided over 1000 square metres of floor space for administration areas. The work has now been completed as part of a £100 million programme to redevelop the Royal Shakespeare Company's facilities in Stratford upon Avon.
Product Specified
Flatbar is extremely versatile and can be used in many other applications, including staging, decking and balustrade infills. Its modular aluminium components are precision manufactured off-site and easy to assemble with no welding required. The system offers a high architectural aesthetic and is virtually maintenance-free.

Flat Bar is a modular system that is manufactured to the exact dimensions required and is available in two standard thicknesses which are popular specifications for multiple application types. Flat Bar also has the option of being Serrated. The serrated panels provide a positive anti-slip surface across the entire surface to suit the most demanding of situations.
Flat Bar is
an aluminium open grille

that provides a

versatile

metal grating design to deliver excellent performance.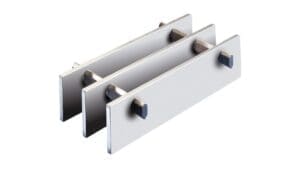 Ask Us For a Quote
Our friendly, expert team are on hand to speak with you and advise on your requirements.
---