In Our Element
Manufactured from 6082 T4/T6 Aluminium to the BS EN 755 standard series
Non-Combustible
A1 – A2 Fire Rated and fully compliant with BS EN 13501-1
Truly Modular
Manufactured off-site to reduce time, disruption and impact on-site to your bespoke dimensions
Extremely Durable
Has a design life of 60+ years and comes with our 25 Year Warranty*
Our range of aluminium decking systems are engineered to provide a very finely-grooved surface, specifically developed to provide anti-slip performance in the direction of travel.
Superior Spanning Capabilities
Significantly reduces the number of structural supports needed
Environmentally Friendly
100% recyclability manufactured from 77% recycled aluminium
High Slip Resistance
Categorised as 'low risk of slip' in the PTV test data in the direction of travel
Unique Swage-Locked Design
Creating the maximum level of structural integrity
Our Ultimate Modular Solution
Neatdek HW incorporates a unique swage-locked construction within the decking to provide a solution which is lightweight yet high in load-bearing capacity and excellent in spanning capability. Unlike our original Neatdek, HW utilises a unique U-shaped drainage channel as its signature feature which allows water and other liquids to drain discreetly away via a series of integral channels between bars, creating a seamless system that creates the biggest contact area in flooring practices. It also restricts the view from above and below to give total privacy.

Neatdek HW is precision engineered from aluminium and has a Euroclass A1 fire rating, making it fully compliant with the latest regulations. Neatdek HW is available with a longitudinally ribbed finish and is an ideal solution for decking applications and elevated floors such as balconies due to its superior slip resistance.
Precision Engineered
Neaco has been manufacturing aluminium balcony flooring for decades. Its fireproof decking has long been a popular choice amongst safety-conscious architects and developers, many years before the latest regulations arrived. Neatdek HW is the highest-end designed decking which offers a selection of T-Bar grille profiles designed to combine a generous foot contact area with fast, efficient drainage.

Neaco applies precision engineering to create a very finely-grooved surface, specifically developed to provide anti-slip performance in the direction of travel. Other options include Neaco's original Neatdek design and Neatdek 188, a system which also features concealed drainage and a gap-free surface for safety underfoot in any footwear, including stilettos.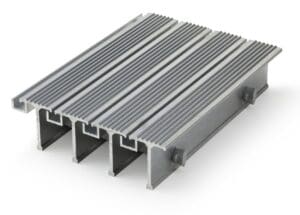 Standard Colour Range
Our decking is manufactured in mill finish or can be powder-coated in a range of durable standard RAL colours. Neaco has its own in-house powder coating facilities which also allows us to provide any durable coated RAL colour of your choosing. The decking is put through our polyester powder-coating plant in our factory due to polyester being weather and UV-resistant, providing high colour stability.
Ask Us For a Quote
Our friendly, expert team are on hand to speak with you and advise on your requirements.
---
Neaco allowed us to overcome some difficult residual design issues and the change from the original decking material to Neaco's Neatdek also helped improve the appearance of the balconies while reducing the maintenance requirements."
Simon Fraser | Ryder Architecture
What is a modular System?
Modular systems provide a huge range of modular components which are precision manufactured off-site to an exacting standard, delivered to site, and then assembled on-site. This means factory-controlled quality, faster installation, less mess, less waste, and less energy consumption than product which are fabricated on-site.
Does Neaco Install as well as Supply?
Yes, we provide a full installation service in addition to technical support and consultation throughout the specification process. Our team of experts is always on hand to assist at every stage.
What are the acoustic properties of Aluminium Decking?
This answer has many factors so an accurate answer is difficult. It depends on the weather, what is hitting the decking, the force, the weight etc. The best answer we can give is that you request a sample for your own peace of mind.
Does the aluminium decking get hot?
Aluminium dissipates heat very well as it has a thermal conductivity value of around 235 Watts per Kelvin per meter so it will take longer to warm up after receiving heat such as direct sunlight. As a result, the surface and core temperatures cool much faster than with other metals.
What is the maximum span?
We offer Neatdek HW up to spans of 1745mm.
Can this decking be used for free draining or directional draining?
Our Neatdek HW provides directional drainage.