Neaco had two causes for celebration this week when we reached the milestone of 50 years in business and completed our Constructionline Gold membership.
Neaco was formed in 1972, setting up a design team and a factory in Malton to engineer building products from aluminium alloy. We started with the production of industrial walkways before diversifying with the development of multi-purpose architectural grilles, decking, adaptive bathing aids and a range of balustrade and balcony systems. Five decades later, Neaco has navigated the peaks and troughs of the construction sector to establish a global reach supplying some of the world's most significant architectural projects.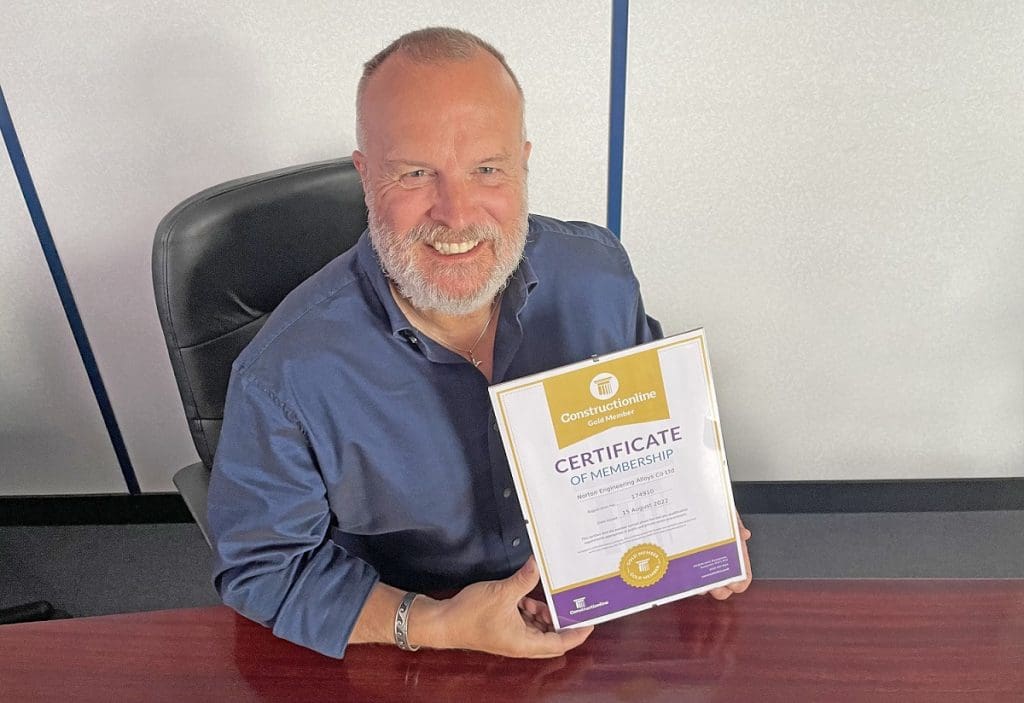 Neaco Managing Director, Alan Green, said:
"Fifty years is exceptional longevity in construction, which is regarded as a bellwether sector for the wider economy and has experienced some of the most challenging downturns over the past five decades. There have been two in the past two decades alone – the 2008 financial crash and covid – but we have always been able to adapt. Research and Development has been a big part of Neaco's operation from the start – we have a policy of continuous product development and we established a diverse portfolio from a very early stage. It has broadened the range of markets we serve and means that whenever one product range has been impacted by a slowing market, our other product ranges have compensated with revenue in other markets."
"With its low carbon footprint and 100% recyclability, aluminium has become increasingly preferred in construction as sustainability has risen up the industry's agenda. Its non-combustibility has also become a valuable attribute in a post-Grenfell sector which has given long-overdue attention to the importance of fire safety.
"Developing business overseas has also been a huge factor in Neaco's success. An extensive international network enables us to supply complete solutions for projects in every region, from Europe and the Middle East and Southeast Asia. Our products have been used on some massive international projects, from flagship airport and infrastructure developments in Jeddah to $200 million football stadiums in Mexico. We've also been specified at some of the UK's most iconic locations, from Wimbledon Centre Court to Buckingham Palace. Our factory in Malton has recently been expanded over the years to 52,000 square feet and we are now preparing for the next 50 years on a very strong footing for a new phase of growth."
That footing has been further strengthened with the enhanced procurement credentials provided by our Gold Level Membership of Constructionline, the UK construction industry's leading register for pre-qualified contractors and consultants.
A long-established member of Constructionline, Neaco have completed a rigorous audit process to achieve an upgrade in accreditation which demonstrates to buyers that our organisation has been subjected to enhanced scrutiny around governance and risk management. Gold status will allow Neaco to bid for an even wider range of projects and secure specifications for a diverse product portfolio which includes multi-purpose architectural grilles, decking, adaptive bathing aids, balustrade and balcony systems.
Constructionline's database is accessed by over 2,000 organisations including central government, local authorities and main contractors which require suppliers to be accredited as part of the tendering process, assuring quality and compliance throughout the supply chain. Gold accreditation assesses a range of additional areas including environmental management, quality management, equalities and diversity.
Neaco Managing Director, Alan Green, said:
"Constructionline helps both sides, buyers and suppliers, to bypass typical problems associated with the tender process, saving everyone time, money and hassle. Neaco achieved our first Constructionline accreditation in 2009 and we have been Silver Members since 2019. We have invested a lot of time in reviewing our operations and systems to ensure that we meet all the requirements for Gold Membership. Together with our SSIP accreditation and CSCS qualification, it puts Neaco in a very strong position to develop new business across the supply chain."